Guests attending weddings at The Green
Exciting times!
We are delighted that you have been invited to attend a Wedding at The Green and we very much look forward to welcoming you to our venue when the time comes for you to celebrate with the couple, family and friends.
Weddings at The Green are designed to be relaxed and sociable, set in the secluded Cornish countryside with everything you need taken care of, right here, in your own private wedding village.
We hope you find the following information helpful. For any details specific to the wedding itself, please speak directly with the couple involved as we are always respectful about their personal plans and mindful of their individual arrangements.
Please be aware that we hold weddings at The Green right the way through the week so advance speculative visits and recces are not permitted as you may be encroaching on another couple's private celebrations.
Thank you for your understanding with this.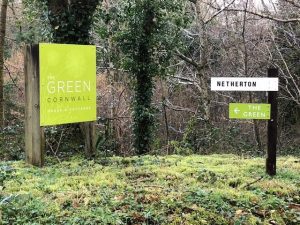 Getting here
Our venue
Here's a plan of the site so you can see the layout of our fabulous facilities.
And if you'd like to see more, take a trip around our 360 degree tour.
Parking
We have plenty of parking available in our private, purpose-built car parks.
If you are Staying at The Green you can use our drop off point and turning circle to offload luggage and passengers but please return to the car park as soon as possible to keep the area free for other users and emergency vehicles. Please use the Overflow Car Park which can be reached after turning right from the Main Car Park, around the bend on your left. There is a small gate below the car park to get back to the main site.
If you are a Day Guest please use the Main Car Park, which should have plenty of space, thanks to residents using a separate area. Should you wish to leave your car overnight, you are welcome to do so but please let us know the car registration number and ensure that you return to collect it by 10:30am the day after the wedding. Campervans and motorhomes are not permitted but there are plenty of local facilities available which are detailed in our Local Accommodation section.
EV Charge Points – there are two GARO EV Charging points located in the main car park. You can swipe your RFID card or use the GARO app and scan the QR code to use.
Access
Do take a look at our Accessibility Guidelines which will help you prior to arrival. Guide dogs are welcome without charge.
If you require wheelchair access please drop us a line here to let us know details of the wedding you are attending so that we can look after you : planning@thegreencornwall.co.uk
Allergies
If you have any allergies, please make sure that the couple is made fully aware of your requirements. We can accommodate your needs but it is very helpful to be made aware in advance so that we can look after you.
Please note that if you are staying with us, please be assured that all our bedding is now synthetic.
Confetti
So sorry, we don't allow confetti or confetti bombs at The Green, even if it's biodegradeable. It gets everywhere and can impact on another wedding so we try to keep the venue pristine for everyone. Your couple may have chosen an alternative, in which case they will probably provide this on the day so you don't have to worry about bringing anything yourselves.
Heels
The majority of our outdoor areas are gravel and grass, so expensive Louboutins may not be the best footwear choice unless you invest in some heel protectors. The areas around the wedding barn, house, Green Room and Red Brick Barn are paved.
Wifi
Despite our secluded location, the wifi is really good throughout the venue. You don't need a password to log in – just provide your email details and you'll be able to jump on.
Gifts and vouchers
If you'd like to buy the newlyweds a gift to mark the occasion or to make their day even more special, then take a look at some of our lovely ideas. A great selection of options to help contribute to the celebrations.
Babysitting
If you need help with little ones during the Wedding, we can highly recommend Lisa, fully accredited Wedding Nanny & Babysitter.
Emergencies
We sincerely hope it isn't the case, but should you need emergency assistance the following information may help Emergency information
If you are staying at The Green
The couple are responsible for allocating all accommodation at the wedding so do get in touch with them directly with any queries. The Green is unable to assist as we are respectful about the couple's decision on their individual arrangements.
If the couple have confirmed that you have been allocated accommodation and you have been asked to make a payment, please click below for further information. Please note that accommodation payments can only be made via BACS so if you have any difficulties with this you will need to pay the couple directly who will then settle with us.
Accommodation
Please refer to the couple with regard to arrival and check-in times as these vary.
Check out is always 11:00am the day after the wedding. Please be sure to check the property to ensure you have all your belongings with you on departure.
Facilities
All our properties are equipped with :
Synthetic Bedding
Bath Towel & Hand Towel per person
Handwash and Toilet Rolls
Bathroom/s
Hairdryer
Tea/Coffee Making Facilities with milk
TV
Iron & Ironing Board on request
If you are staying in the House or Cottages there are microwave/fridge facilities as well as an iron and ironing board. These rooms are better suited to family use and cots are also available upon request. They also have a dishwasher, washing machine and tumble dryer.
Please bring your own toiletries and any personal items with you.
Hair & Makeup
If you are travelling some distance and would like to arrange an appointment locally for hair or make up we can recommend the following salons :
Highchairs & cots
Please advise the couple if you have any requirements so that we can make appropriate arrangements. If using our cots, you will need to provide your own linen and mattress (H&S guidelines). Cots measure 63cm x 94cm.
Local accommodation
There is plenty of alternative accommodation within a close distance if you are not staying at the venue itself. We have put together a list of recommendations for various styles of accommodation, all of which is within a short distance. For anything else, there's always Google!
Bar
We're going cashless! With the phasing out of local banks, our nearest bank branch is now in Devon so please bring a debit or credit card with you so you don't go thirsty.
Please note that The Green is a licensed premises and no alcohol can be brought into the public areas unless purchased on site from our Bars.
Taxis
If you're staying locally then you may need a taxi. We have a list of recommendations but do bear in mind that you will be in peaceful Cornish countryside as opposed to a vibrant city setting …. Uber is not a thing down 'ere! So do make arrangments in advance to avoid getting stranded at the end of the evening.
Dogs
If you need someone to look after your dog during the festivities, you might like to try :
or
Supermarkets & fuel
The closest supermarkets are :
Lost property
Don't be like Cinderella! Do check you have all your belongings prior to departure. If you do find you are missing something, then please click on the following link to find out how we can arrange to reunite you with your treasured item. Returning Your Property
Have a safe journey and …
See you at the wedding!